Sushi Takeout Box Made of Paper with Insert
Product name : Sushi Takeout Box Made of Paper with Insert
Product No. : 20213422332
Price : Negotiated
Color : CMYK/ Pantone
Dimension : Customized
Material : 300gsm Food Grade White Paperboard
Surface Disposal : Glossy Aqueous
OEM : Acceptable
Certificate : ISO9001; SGS; FSC; ICTI (Disney, Walmart)
Lead Time : 15-18 days after sample approved
Origin : Ningbo, Zhejiang
Details:
Sushi Takeout Box Made of Paper with Insert

1. Material 300gsm food grade white paperboard
2. print colors of sushi takeout box CMYK full color offset print inside and outside according to your design artwork and logo.
3. packaging box dimensions in previous order for 16 pieces of sushi, and side position for sauces.
4. sushi takeout box surface treatment is glossy aqueous
5. among the photos, you can also see there is one of the sushi takeout box with clear window, which is much hot selling also. Because once the sushi packed, the clients still can see through the window to know what's inside the package.
6. such styled sushi box is shipped flat, and it's helpful to save storage space.
7. sample in stock is free of charge, and you only need to pay the express shipping cost of US$35 to get the sushi takeout box sample to check quality.
8. if you want to make the sample box with your logo and colors print, sure, it's okay. and sample charges is US$100, and shipping to you cost US$35.
9. custom color print sushi takeout box sample lead time 5-7 working days after print file confirmed.
10. bulk order lead time 12-15 working days after sample approval.
11. because of COVID-19 problem, people can not eat in the restaurants. So the sushi takeout boxes are much hot now, and it can be used in sushi shop stores, and supermarket.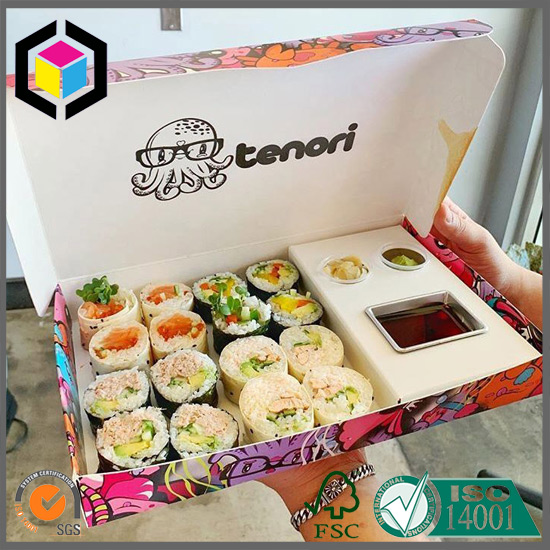 This artwork of product belong to each single customer, and here just for your reference. We do not have any intellectual property to sell any products containing this trade mark.
Please note that all the items are available to be customized; if you are interested in our products, please directly contact us at
[email protected]
for inquiry. We will reply you not exceed 48 hours.
History of Sushi Food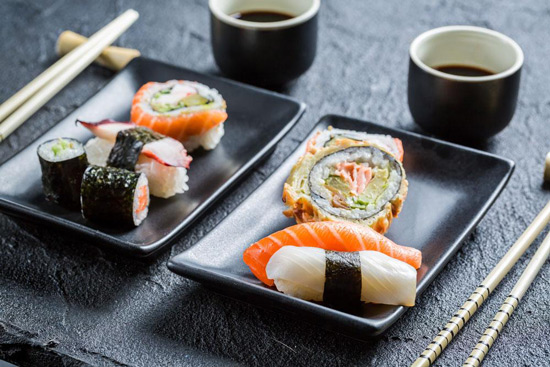 There are different opinions on the origin of sushi. In ancient Southeast Asia and the coast of China, there were foods similar to sushi, but in different forms. Japanese sushi is based on seaweed or seaweed rolled rice, sashimi, cucumber, pork floss, and scallion, topped with wasabi, horseradish, soy sauce, and vinegar. On the coast of China, there is a cylindrical rice ball made of glutinous rice, egg yolks, crispy skin, peanuts, vegetables, and cooked shrimp. It is called glutinous rice sticks. It is wrapped in a layer of cooked noodles. The method is similar to nigiri sushi, but the material and shape are different. According to legend, the glutinous rice sticks came from the Yue State (Zhejiang region) during the Spring and Autumn Period, and belonged to the traditional cuisine of the ancient Yue people.
In 700 AD, in the Nara period, early Japanese small foods were named sushi and used as festive foods. Sushi has gradually become popular as a daily food, especially some fishermen's rice balls marinated in some vinegar, plus some seafood or meat, pressed into small pieces, neatly arranged in a small wooden box, as food along the way. During the Kamakura Shogunate, sushi has been widely spread, becoming a common item and a symbol of Japanese food culture.