Chocolate Box Packaging
Product name : Chocolate Box Packaging
Product No. : 2020918145952
Price : Negotiated
Color : CMYK/ Pantone
Dimension : Custom
Material : 2.0mm Chipboard+157gsm art paper
Surface Disposal : Matte Lamination
OEM : Acceptable
Certificate : ISO9001; SGS; FSC; ICTI (Disney, Walmart)
Lead Time : 15-18 days after sample approved
Origin : Ningbo, Zhejiang
Details:
Chocolate Box Packaging

Reliable Chocolate Box Packaging manufacturer and supplier. Custom design artwork printing. Global Shipping.
Over 10 years of manufacturing experience, and exportation business.
Send Inquiry Now
Email

info@unique-packaging.com

/ Alice Lee

alice@unique-packaging.com
What We Can Offer

# Luxury Chocolate Packaging Box
# Rigid Cardboard Chocolate Box
# Common Paperboard Chocolate Box
# Chocolate Wrapping Paper
# Embed Chocolate Insert/ Tray
# Chocolate Bar Display Box
# Chocolate Bar Box Packaging
# Compartment Chocolate Box
If what you are looking for is not listed above, please feel free to contact our service team. It's certain you will get a reply in time on working days. Usually, we can offer 24/7 support.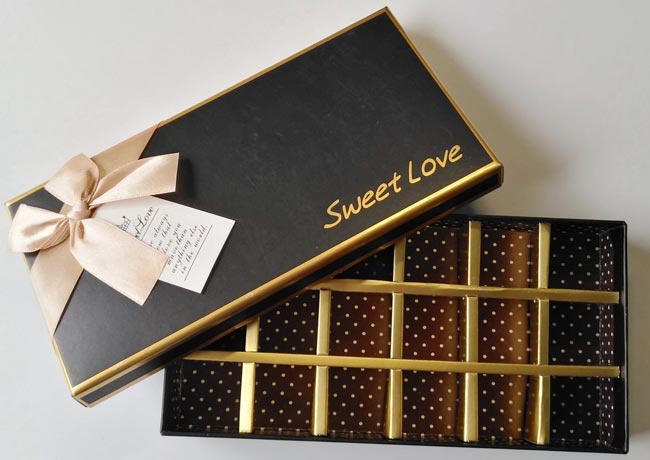 Chocolate Kingdom
1. Belgium
Belgium created the Hanmi chocolate brand in 1983. Committed to presenting the best Hatton chocolate in Belgium to the world. 85% of the products are exported to more than 60 countries around the world. The product categories are: elegant comprehensive chocolate, 12 constellation heart-shaped chocolate, black truffle chocolate, finger suck aftertaste. Gillian, founded by Guy and Liliane Foubert 30 years ago. It is currently the largest manufacturer of boxed chocolates in Belgium, producing 75 tons of high-quality chocolates every day and selling them to 132 countries around the world. Gillian is a chocolate brand awarded a gold medal by the Belgian royal family, including 7 series of shells (golden shells), snowballs, classics, gems, lovers and the essence of the world. It is called "the supreme in the chocolate kingdom".
2. Switzerland
In fact, Switzerland also has the term chocolate kingdom. In addition to clocks and sabers, Switzerland has a very famous thing, that is chocolate. Swiss chocolate has a rich variety and moderate prices, making it the most suitable gift. Milk chocolate was invented in Switzerland. Later, the Swiss Daniil Peter invented the production method in 1875.
At the beginning of the 19th century, chocolate was just an exotic product to the Swiss. However, two centuries later, Switzerland has become the kingdom of chocolate in the eyes of the world. The main reason for this is that Swiss people who are good at innovation have perfected the method of
making chocolate time and time again, and made the transformation of chocolate from expensive luxury goods to mass consumer goods.
With so many forms of chocolate, there are different groups that they like. In Europe, the largest consumer market for chocolate, solid chocolate without anything is the most popular. However, chocolate mixed with nuts is more popular in Eastern society, especially peanuts and biscuit flavors. Perhaps it is the pursuit of different tastes. Orientals prefer a variety of tastes, while the United States has a half.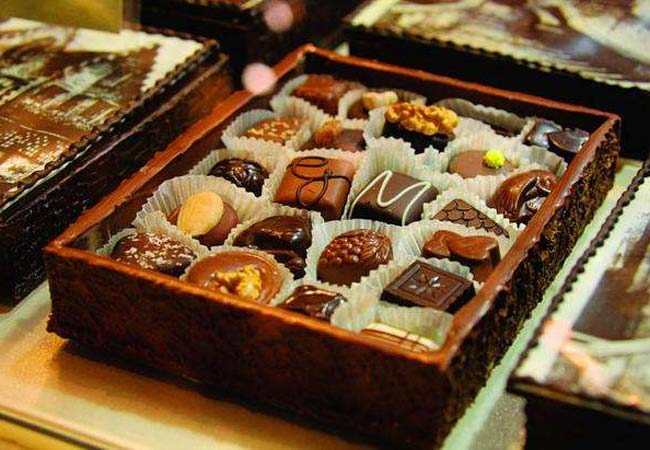 Classification of Chocolate
# dark chocolate
Dark chocolate is the favorite of people who like to taste "original chocolate". Because it does not contain or contains a small amount of milk ingredients, the sugar is usually low. The aroma of cocoa is not overshadowed by other flavors. After melting in the mouth, the aroma of cocoa will overflow between the teeth for a long time. Some people even think that eating dark chocolate means eating real chocolate. Usually, high-end chocolates are dark chocolates, which have the taste of pure cocoa. Because cocoa itself is not sweet and even bitter, dark chocolate is less popular. Eating dark chocolate can increase the body's antioxidant levels, thereby helping to prevent cardiovascular disease, diabetes, and hypoglycemia (Cardiovascular disease).

# White chocolate
White chocolate, because it does not contain cocoa powder, only cocoa butter and milk, so it is white. This kind of chocolate has only the aroma of cocoa, and the taste is different from ordinary chocolate. Some people don't classify it as chocolate, perhaps it should be called milk magic.
Due to the low cocoa content and high sugar content, the taste of white chocolate will be very sweet.
# Milk chocolate

Milk chocolate is based on dark chocolate with a certain amount of milk. The taste is very good and it is very popular. For a long time, milk chocolate has been loved by consumers for its balanced taste, and it is also the most consumed type of chocolate product in the world. The earliest milk chocolate recipe was invented by the Swiss. Belgium and the United Kingdom are also major producers of milk chocolate.
They often use mixed milk powder technology, which has a cheese-like flavor. Compared to pure dark chocolate, the cocoa flavor of milk chocolate is lighter, sweeter, and no longer greasy. A good milk chocolate product should have a perfect balance between the aroma of cocoa and milk, similar to the delicate relationship between two lovers who are both attached and independent.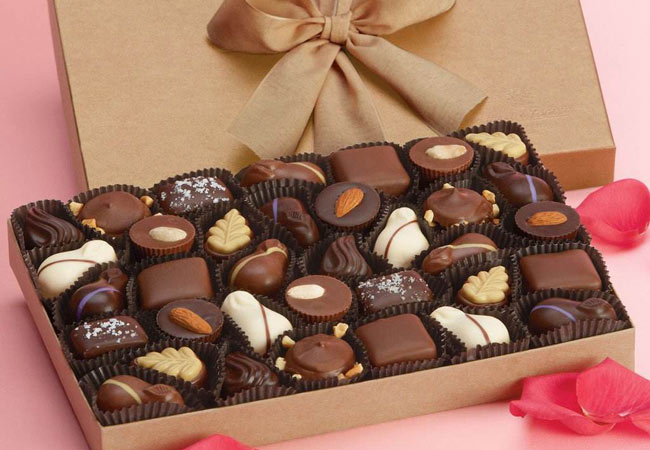 # Colored chocolate
Colored chocolate is based on white chocolate and added food coloring (natural coloring or synthetic coloring). It is processed through a series of processes such as batching, fine grinding, temperature adjustment, and molding. It is widely used in puffed food chocolate coating, cold drink chocolate coating, colorful chocolate and so on.
Chocolate Box Style


#1. two pieces separated box, lid & bottom setup chocolate box
#2. lid hinged book shape style chocolate box packaging design
#3. drawer style chocolate box; sliding box chocolate packaging box
#4. cardboard chocolate box with outer sleeve
#5. Kraft paper chocolate box packaging
#6. Clear window chocolate paper box
#7. Assorted Chocolate packaging box with handle
#8. Chocolate bar box with flap
#9. Heart shape chocolate box packaging design
#10. Chocolate Mailer Box made of corrugated board
#11. Chocolate bar display box design
#12. Round shape chocolate box with lid

On the market, there are many styles of chocolate box packaging design. As long as its material is paper, please feel free to contact us. In our factory, all boxes can be customized with your requirements. And our service would like to reply you with professional support.


Send Inquiry Now



Email
info@unique-packaging.com
/ Alice Lee
alice@unique-packaging.com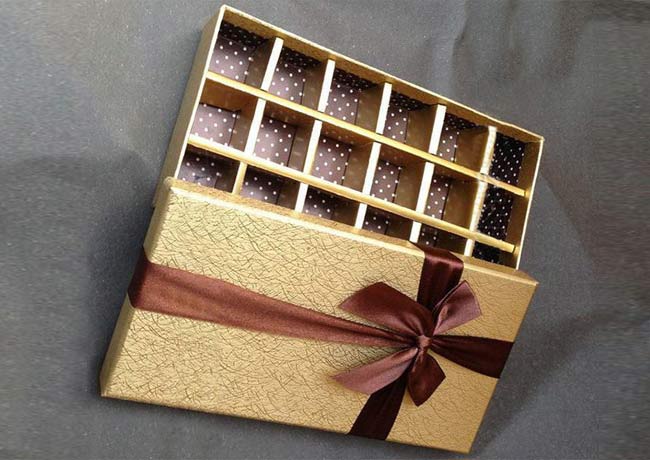 In Unico factory, it's possible to make every single chocolate box packaging design with your requirements. If you are looking for a chocolate box, please feel free to get in touch with our service team. And we will reply you within 24 hours on business days.